Prolonged lockdowns and repetitive closures of educational institutes have piled up pressure on the majority of students and teachers alike, with many still not able to adjust to the new normal — online classes.
The government, since the first lockdown in March last year, has intermittently opened and closed educational institutions across the country to manage the epidemic. Although it was a logical decision to curb the spread of coronavirus, the move has adversely impacted education.
Since several universities did not have the required infrastructure to conduct classes and examinations online — and some still don't — the transition has caused frustration and anxiety among students.
Amid the disruption in modes of learning, Federal Minister for Education and National Heritage Shafqat Mehmood — who has been in the spotlight ever since the pandemic broke out — has remarked that the country has witnessed "too much loss" on the educational front due to the virus and has stressed on no compromise on the exams front.
Students, however, remain unable to see any meaningful change on this front in the near term with the way things are, and seem to be nearing breaking point.
Constant shift in schedule 'unbearable'
Khateeb Ahmed, 22, a student of mass communication at the University of Karachi, said online classes have become "unbearable" as teachers repeatedly change the timings of the classes to suit their schedules.
"Not only this, but teachers often end the courses as per their convenience and stop delivering more lectures, and we are left in limbo."
He said some teachers "bombard students with assignments" to make up for the missed online lectures, thereby demonstrating their "incompetency."
The 22-year-old said during these "disturbing times," students are further troubled by two things — an increasing number of assignments with no deadline extensions, and exams for which they have less time to prepare due to their assignments.
Electricity and internet connectivity issues add to students' woes, he added, calling on the government to devise a strategy for resuming on-campus classes.
'Overwhelming' assignments
"Online classes end up being more exhausting than one might think as most of the teaching staff isn't tech-savvy and the notion of online classes is unprecedented in our society," said Abbas Raza Naqvi, 21, who is a student of computer sciences at the Shaheed Zulfikar Ali Bhutto Institute of Science and Technology (SZABIST).
According to Naqvi, the lack of familiarity with technology makes online classes inefficient, and hence, tiresome and exhausting.
Echoing Khateeb Ahmed's concerns, Raza said the frequency and quantity of assignments have been "overwhelming" as each teacher thinks it necessary to hand out several of them to compensate for the missed sessions.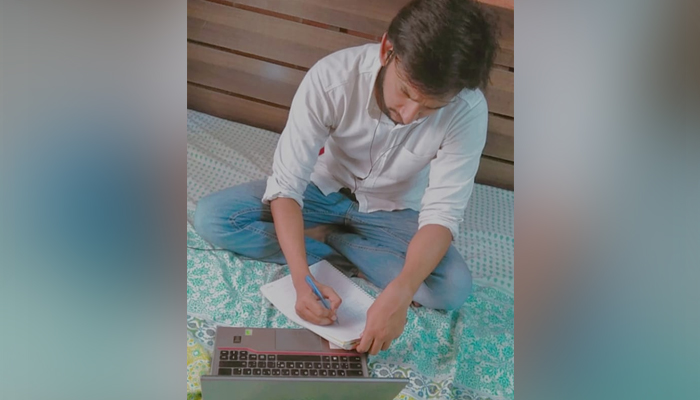 "The lockdown has already been hard on most people for different reasons. The lack of time to take care of oneself, the frustration, the stress induced by the online educational system, and the high-handed attitude of the teachers and university — all these contribute to anger issues," Raza added.
Weekends no longer exist
Sarah Salman, 21, student of media studies at Bahria University, said she was unaware of the privilege of being able to attend classes face-to-face until she had to attend them online.
"Online classes are not just tiring, they are incredibly draining when the only thing you're doing is sitting at the same spot for three hours, talking to a screen," Sarah said.
The 21-year-old complained of a lack of opportunity to openly exchange ideas with the teachers — like the way students do during on-campus classes.
Sarah, speaking about the workload, said while most teachers had been considerate enough to not give too many assignments, others had "gone overboard".
"If any of us speak up about it, we get only one reply in return and that is, 'you are home anyway'," she said, adding: "Weekends don't even seem to exist anymore."
Shedding light on her state of mind, Sarah said other than the depression of staying at home with minimal human contact due to the pandemic, online classes had further deteriorated her mental health.
"The very thought of staring at a screen for hours is depressing. I have gone from never skipping a class, to easily sleeping or procrastinating through most of them," she confessed.
"With only a year left before I graduate, all of this leaves me anxious and depressed thinking of how long this will go on for or how much of my academic progress will suffer because of online classes," Sarah added.
Not all hope is lost
Atta-ur-Rehman, 20, studying industrial and manufacturing engineering at the NED University of Engineering and Technology, however, took a different approach from several of his peers who want on-campus classes, saying he prefers online sessions.
"The lectures are recorded and updated on Google Classroom, so one can attend them anytime even if they had missed them. These recorded lectures provide great assistance in revision and preparation for exams," Rehman said.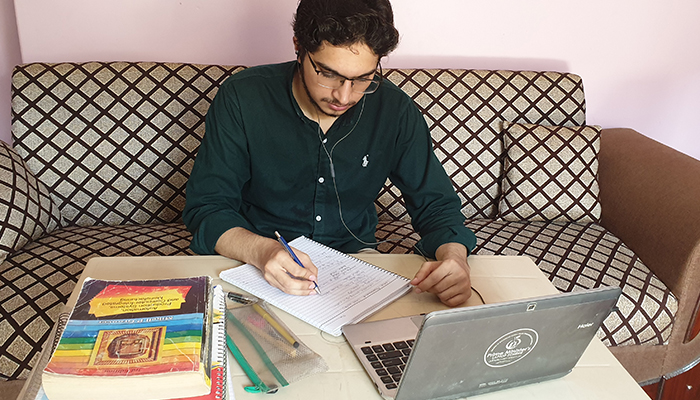 Also, when taking lectures online, one is inevitably connected to the internet, and as a result, one may come across a thing in their studies that they can't understand, so they can always pause, search for an answer, and continue the lecture, he said.
"This thing has proven very beneficial, at least for me, as during on-campus classes, there would typically be several distractions that would cause a lack of focus," he said.
The 20-year-old further said note-taking has become very easy for him with the availability of play/pause and controlling speed options.
'No replacement for on-campus classes'
Dr Huma Baqai, associate professor of Social Sciences and Liberal Arts at the Institute of Business Administration (IBA), Karachi, recognised that online classes in Pakistan do not cut it.
"There is no replacement for on-campus classes and the faculty is not trained to conduct online classes," said Dr Baqai, who has experience spanning 30 years in the field.
She said student engagement can not be ensured during online classes, and as a result, learning outcomes had been largely compromised.
Highlighting that Pakistan suffers from a "digital divide", Dr Baqai said even one of the most elite institutes — IBA — could not continue the classes in a smooth manner as several students hailed from areas that were not equipped for online classes due to unstable internet connectivity or a downright lack of connection.
Dr Baqai said that her varsity was among the first to go online after the shutdown in March 2020 — and had created a digital learning system that had allowed students to listen to recorded classes so they don't miss out on anything.
In a bid to increase the participation of the students, Dr Baqai said she would often ask participatory questions and would hold fortnightly or weekly assessments to keep the pupils engaged.
However, despite all the attempts to facilitate students and go to lengths to conduct online classes, the IBA was unable to hold exams last year, the associate professor said.
The students' participation has fallen drastically, with only a handful attending sessions on some occasions.
"Some students are very enthusiastic, they go to great lengths to cover their course. But on the other hand, there are students who are more easygoing and need a classroom environment that pushes them to work," she said.
Highlighting a reason for this, Dr Baqai said 80% of the students just want good grades, and they come to the university for a degree, not in pursuit of knowledge.
When asked whether she believed students were attempting to evade online classes, she said: "No, no, students have actually become comfortable with online classes — there is no academic discipline, there's no attendance, and there are no exams."
The academic said she firmly believes teachers should be prioritised for vaccinations as frontline workers so classes go back to campuses and uninterrupted learning continues.
The psychological fallout
Shedding light on how the pandemic and online classes could have long-term consequences on the students' health and education, Dr Farah Iqbal, professor at Karachi University's Psychology Department, said students miss in-person classes with their fellows.
"During on-campus classes, they would chat, enjoy each other's company, and joke around — they're missing a real connection with their peers."
Dr Iqbal said students also miss meeting their teachers as they consider them to be counsellors or mentors in the broader sense of the word, rather than just educationists.
"This new situation increases stress, anxiety, and depressive thoughts among students, including fear and worry about their own well-being as well as their loved ones," she said.
The psychological expert said students have been experiencing difficulty in concentrating, are reporting disruptions in sleeping patterns, have disturbed routines, and have increased concerns about academic performance, job placements, and a general uncertainty, which is all very harmful to their wellbeing.
Dr Iqbal, giving advice to students on how they can cope with the ongoing situation, said several habits and routines are the need of the hour.
Here is her advice:
Try to find and use more effective time-management strategies.
Take time out for exercise, meditation, outdoor or indoor games.
Engage in yoga, painting, reading, writing, gardening, cooking, and baking, etc.
Take breaks between online sessions and engage in a few quick stress-releasing exercises, such as deep breathing or stretching.
Conduct a SWOT Analysis (Strengths Weaknesses Opportunities Threats) to bring clarity to your thoughts.
Develop and/or invest in relationships.
If you can't seem to cope on your own, then seek professional help.
'Welfare of students paramount'
Meanwhile, Federal Minister for Education Shafqat Mehmood, in a recent tweet, had reiterated that this pandemic has created immense difficulties in all walks of life but especially in education.
The education minister said the government has, however, been taking difficult decisions to ensure that learning continues.
"Every decision has its pros and cons, but for [the government], the interest/welfare of students is always paramount," he said.